"YOU'RE NEVER ALONE WITH A STRAND" (1959)
WD & HO Wills promotional 33
1/3

rpm laminate disk announcing forthcoming introduction of Strand cigarettes.

"You are never alone with a Strand." The TV advert had one solitary chap in a raincoat saunter along the Embankment and lighting up a cigarette in 'film noir' lamplight.

This was a famously failing brand launch that did not take on, but anyone who saw it remembers the TV ad.

This is the sound recovered from a promotional laminate recording given out to tobacconist shops in 1959. Unfortunately not what I had anticipated, no exciting jingle. After removing the old glue backing, the acetate laminate sheet with the recording was carefully lifted and reapplied with double-sided adhesive tape.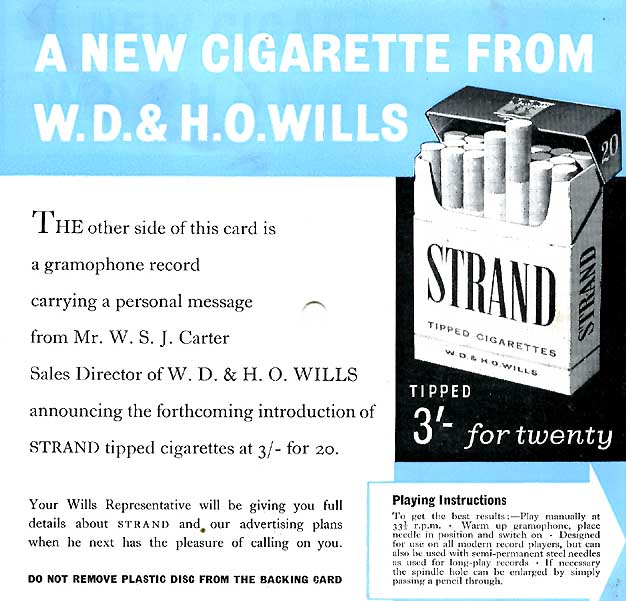 "Play at 33 1/3 R.P.M. This Record manufactured by HARDY RECORD MANUFACTURING CO. LTD., London."
"The other side of this record is a gramophone record carrying a personal message from Mr W.S. J. Carter Sales Director of W.D. & H.O. WILLS announcing the forthcoming introduction of STRAND tipped cigarettes at 3/- for 20.
Your Wills Representative will be giving you full details about S T R A N D and our advertising plans when he next has the pleasure of calling on you.
DO NOT REMOVE THE PLASTIC DISK FROM THE BACKING CARD "
Back to Film Restorations Page
Hello Ian, I remember the ads. I suspect they were pitched at the more sophisticated smoker and so had an equally sophisticated price. I don't think I ever bothered trying them. I was most likely to be smoking Player's No 6 or Embassies if I had the extra money to spare. Picadillies or Rothman's King Sized were reasonably familiar to me and Balkan Sobranie or Disque-Bleu were exotic luxuries. I'd also tried Players Navy Cut and Woodbines - both very strong on nicotine content (which was good), but both so tarry that I developed a cough and so never smoked them regularly. Ian Croxley (via Facebook).
---
www.ian-partridge.com ~ Web page content, photography and design, Copyright Ian Partridge ©2009 ~ 2023
---