FILM RESTORATION PROJECT
'The Tyrant of the Veldt' (1915)
Silent original. One reel only (of two) An ongoing restoration/scanning project.
35mm. directed by and featuring Tom Santschi . A lost Selig Polyscope Film Company Production.
"A jungle zoo drama with an almost tragic plot, the scenes of which are laid in Africa. A display of animal actor's art."
Of some 2,000 Selig film productions made, only one title survives complete. A mere handful of Selig film part reels and fragments are known to exist.
Tame leopard and girl (Bessie Eyton)... tame elephant and girl.... exotic foliage... bearded men on horseback "...Sir John title card..." ?
(Illustrations and more details of progress to follow)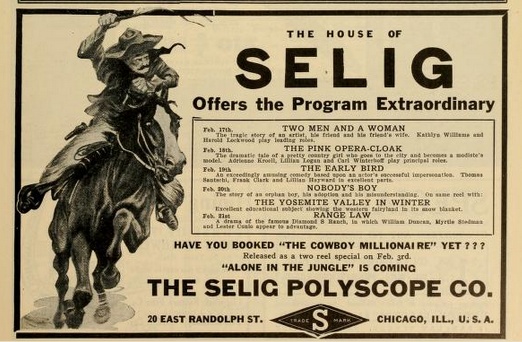 Trying to find time to transfer this historic 108 years-old relic soon !
Back to Film Restorations Page
---
About | Privacy/Terms | Contact | FAQ
---
www.ian-partridge.com ~ Web page content photography and design ~ Copyright ©2010 ~ 2023 Ian Partridge.
---