'THE THIRD MAN' -S-O-L-D- (01/09/2010)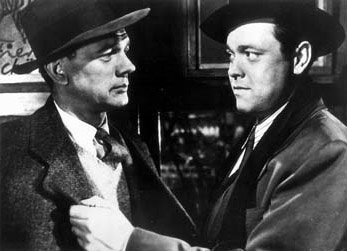 Josef Cotton, Alida Vali , Trevor Howard
(Full British 110" minute long version with voiceover intro by Carol Reed)
Features Joseph Cotton, Alida Valli, Trevor Howard, Orson Welles. Music score by Anton Karas -- Directed By Carol Reed.
(The engineer that built Veinna's "Reisenrad," or big wheel, that features in this film, was the father of Hollywood music composer Franz Waxman)
The Third Man (Orson Welles, Joseph Cotten) dir. Carol Reed.

2 x 2,000'ft. B/W £140.00
Print Condition:
'The Third Man' print is complete with all original heads and tails and very good contrast and detail. It is a dupe or reduction from the full length
British Version which is nine minutes longer than the US version. It also has Carol Read doing the voice-over introduction. The film is on two full
2,200'ft. spools. All countdown leaders and London Films logo. The soundtrack is very strong and dialogue clear. Complete and with no cuts or breaks only laboratory joins where the print has been made up in (shorter than 2,000' ft.) sections, 8 joins in reel one, 7 in Reel 2. Mostly no edge markings on the B/W positive print stock, but where present marked "3M" which is high silver correctlly processed not faint or exhausted. Clear perforations so it is not a reversal contact print. Some of the exterior shots, shirt cuffs and collars, distant backgrounds only, are a little 'washed out' looking. There are printed-in hair marks when Cotton climbs the stairwell at the beginning. In the daytime exterior shots, the background appears very slightly washed out. However the subteranean tunnels under Veinna and all the dark interiors of Robert Krasker's cinematography are detailed and fully represented.

Orders:
For further details about any of the above:
USE THIS LINK TO Current MAY 2022 LIST OF 16mm FILMS FOR SALE
---
www.Ian-Partridge.Com ~ Web page content, photography and design, Copyright Ian Partridge ©2009 ~ 2022