RESTORATION PROJECT 2005-11
'THINGS TO COME' (1936) making a more complete 'hybrid' version by combining scenes from two release versions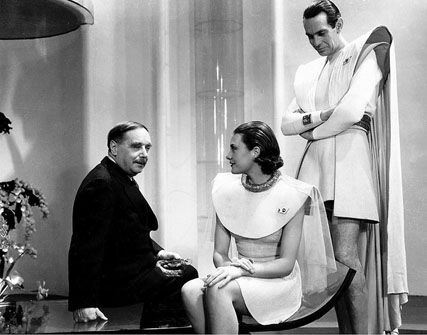 H.G. Wells, Ann Todd and Raymond Massey on the set of 'Things to Come' (1936)
The Walter Gutlohn 1941 USA release included scenes and important dialogue missing from existing UK prints. By combining scenes from both the Gutlohn and UK versions it was possible to create a 'hybrid' print version.
Little Easton Glebe, home of H.G. Wells.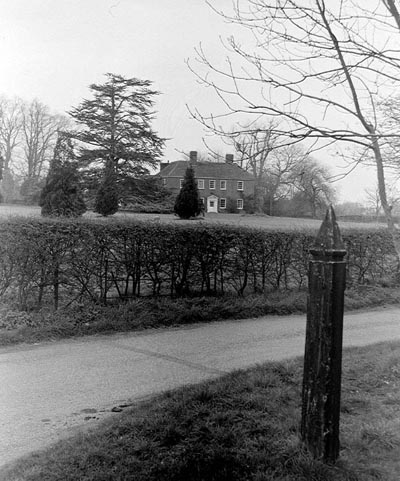 This photo was taken standing on my bicycle seat, pearing over the hedge. The baker's delivery van had just driven up the drive.
Music Score of 1935 film : "Things To Come"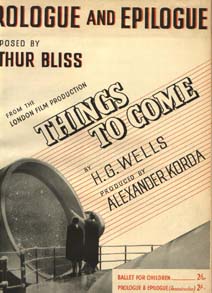 (MCMXXXVI Chappell & Co Ltd)
The futuristic image is from the film's 'Epilogue'. (Raymond Massey and Edward Chapman). This is a bound copy of the Chappell & Co. sheet music junked from Colchester Public Library's music shelves after 50 years.
BROMLEY RELIC-BRICK

'Atlas House' 47 High Street, was Wells' parent's shop. Sold china & glass, paraffin and also cricket goods. Mr Medhurst, who ran the shop next door, did well and soon expanded to take over 47 and that side of the street became Medhurst's department store (now Alders).
Back to Film Restorations Page
---
About | Privacy/Terms | Contact | FAQ
---
www.ian-partridge.com ~ Web page content photography and design ~ Copyright ©2013 2022~ Ian Partridge.
---