Restored Weston Photographic Light Meters Available Now
Restored fully-working Weston photographic light meters available now, MAY 2019
Models: Weston 'IV', 'V', and Weston 'Euro - master'
Weston MASTER V

£139.00 UKP - For full details on Weston Master V click above.
---
Weston EUROMASTER

£139.00 UKP - For full details on Weston Euromaster click above.
---
Weston MASTER IV

£139.00 UKP - For full details on Master IV click above.
---
Repair Service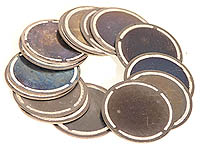 If you are fondly attached to you old Weston meter, send it in for restoration and overhaul
£139.00
---
Weston Euro-master Instructions booklet: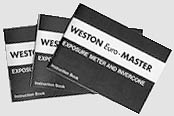 Weston Euromaster - 20 - page booklet. Card cover on art paper with photograph illustrations and diagrams. £9.00 UK/Worldwide (Airmail) Post Free
---
Weston MASTER V Instruction Booklet:

Weston Master V - 20 - page booklet. Card cover on art paper with photograph illustrations and diagrams. £9.00 UK/Worldwide (Airmail) Post Free

---
Weston MASTER IV Instruction Booklet: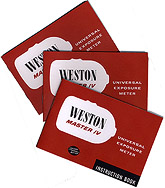 Weston Master IV - 20 - page booklet. Card cover on art paper with photograph illustrations and diagrams. £9.00 UK/Worldwide (Airmail) Post Free
---
I am holding it in my hands. Stunning. My grandfather had one back in the 1960s. I wound up with it in the 90s but by then it had stopped working. I sold it along with a pile of Leica screw mount gear for a Hasselblad. It's not just a light meter, it's a time machine. Thank you.
Kevin
Good morning
The Weston arrived by this mornings' post and I am delighted. The meter is exactly as you described along with a near new leather case instruction book and invercone also in a case. The instruction book has revealed several things about the Weston of which I was not previously aware. Thank you for your excellent service.
Yours Sincerely
John Robert Young
http://www.johnrobertyoung.com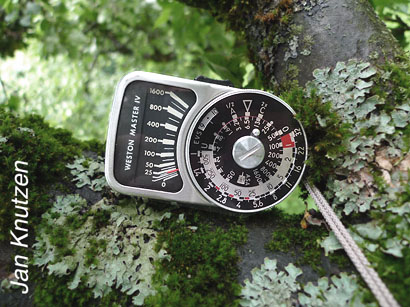 Hello Ian,
The Weston Master IV arrived three days ago. It is a beautiful instrument. The IV is visually even more elegant than model V and Euro-Master, - and the scales are more readable I think.
Regards Jan
Dear Ian,
Thank you for the beautiful meter. It's already changing the way I perceive
the light in a scene. I've actually been using a very accurate and sensitive
digital Gossen incident meter for 10 years now and my photos have been
flawlessly well-exposed.
But a couple days of using this old Weston with its film-range scale has
given me a chance to reconsider the best exposure. Surprisingly (to me) it's
not always the one that matches the "exact amount of light falling on the
scene."
So thank you for helping me put the photographer back into my photographs.
Hi Ian,
Found your ' IAN PARTRIDGE WESTON LIGHT METER PAGES '
on the web... great !
My 1975 Model needs new cell/overhaul, are your able to
repair them still and about how much would it cost?
I brought mine when starting work in 1975 and cost £29.95 from the then famous Euro Photo Centre at Cowley.
Would love to have it servicable again.
Thanks.

Bob
~
Hello Bob,
I have sold several restored meters in the last few years on
my website. I will be happy to overhaul your old meter with
a new cell. I assume you wish to keep the worn dial on your
original meter? I have new-cell overhauled meters
available.
Best Regards,
Ian
~
Sirs,
Weston Master IV

Do you please have any instructions and case for the above light meter.
How does this meter compare with the Master V ?

I await your reply with interest

J.S.R.
~
Dear JSR,
I have used cases for Weston Master IV meters. Tan stitched leather with
the zip fastener along the centre seam. The dividing leather 'hinge' between
the two case halves tends to split with use.
I supply reproduction Instruction Booklets for the Master V
The best feature of the IV is the needle-arresting thumb slide. It is
particularly easy to take a reading from the subject, operate the slide to
lock the needle position, and then calculate exposure. With the V, the
needle stop is a small button that has to be pressed in, and is locked by a
half twist from ones' thumbnail. This is less practical than the IV.
Regards,
Ian Partridge

~
Hello there!
The Invercone of my trusty old Weston Euro-Master is cracked and missing a "bit". I read that you had a number of old meters "for parts" and/or future re-celling and was hoping that you mught have an spare Invercone you'd be willing to sell to someone in the States.
Cheers!
Jim
~

Hello Jim,
Yes. I have spare parts for Weston meters. I am happy to choose a perfect
invercone and post to you by Royal Mail Small Packet Airmail on Monday.
I will send a Paypal Invoice for $12.00 includes shipping.
Many thanks for your interest.
Best Regards,
Ian
~
Hello Ian!
That IS good news. Thank you.
You're the expert -- I can send you a photo of the meter if you'd think it necessary to be sure "which" Master I have. On the "screen" it says "WESTON Euro-MASTER" (the "Euro" being slanted/italic). The serial No. stamped on the back is "8643 M"
I purchased the meter new in London late in 1973. I had just started a 3 year course at the Harrow College of Technology & Art (now the "Harrow Campus" of the University of Westminster). Side story: At a camera shop down "somewhere in center London", I'd gone "shopping" with 3 fellow students. We were at the register and I was paying for the Weston and several 2 1/4 stainless film developer reels when a limo pulled up in front of the store and Peter Sellers ran in. He dropped about 20 rolls of 35mm colour film on the counter -- they were to process and print everything as 10 x 8's as usual -- he smiled at us and was out the door and off in his limo. As students, we were shooting B&W, making contact sheets of already edited negs and only printing the absolutely best images on precious 10 x 8 paper --we were aghast at Mr. Sellers' waste and extravagance!
woops, back to the meter! I'm including a few measurements I've taken of my broken Invercone just so you'll know for sure we're talking about the same animal:
overall OD: 54.5 mm (2 1/8")
OD of inner flange (the bit that fits into meter): 41.5 mm (1 5/8")
length of metal "hinge" plate: 30.5 mm (1 3/16")
Again, thank you!
Jim

~
Hello Jim,
I have selected a mint invercone ready to post and I will send the Paypal
invoice shortly.
Was it Brunnings second-hand photographic shop in New Oxford Street? I would
always gaze into their windows at that time. It was a fantastic photographic
store with everything you could imagine. I bought old cine lenses there in
the early seventies and reflectors for photoflood bulbs! I remember going
into the shop and asking for 16mm split spools and being directed to Robert
Rigby's Northington Street cinematography works where they were being made only a few streets
away. I could only afford two 800' ft. reels, but they were straight from
being made 'ex-works' from the old boy himself.
Ian
~
Hello Ian:
I just wanted to let you know that the Invercone arrived safely (congrats on your packing!). The mailperson put it right in our roadside mailbox so I didn't even have to make a trip to the Post Office ...and there were no forms or affadvits for me to sign.
Thank you again for your help. It was important that this bit of my "history" be working.
Jim

~
Hello Jim,
Very pleased the invercone arrived safely. The first sale on this 'ip-com' website!
All good wishes,
Ian

~
Hello John,
Just to say meter is despatched to you today, Friday PM (Saturday Delivery
not guaranteed when posted Friday for SD)
Many thanks again.
Ian

~
Hello Ian
Just to let you know that the meter did arrive on Saturday but I missed the post lady, so I collected it yesterday from the sorting office. All very well packed. I have checked it quickly and the needle seems very lively, which is great. The first opportunity to use it with the Hasselblad will be next weekend, so I am looking forward to that. Thank you very much for your prompt service. I now have three Master Vs (!) - of the other two, one has a sticking needle but a good cell, the other one has a weak cell but a good movement. Do you think it would be possible to combine the two and make one good one?
Best regards
John

Just to update you - I got out yesterday afternoon to take a few snaps
and to test out your refurbished Master V for the first time. I'm
pleased to report that the old girl worked just fine. Over a range of
lighting conditions and subjects I got a great result every time, with
perfect exposures. So the new cell has done the trick. Cash is going to
be tight for the next couple of months, but come the Spring I shall get
back to you and see if you can refurbish one of my other Westons as I
mentioned previously.
Many thanks
John

~
Hello M. Mougin,

I have despatched your light meter today International Air Mail
registered Tracking Number: R********

Many Thanks,

Regards,
Ian
~

The package is arrived today. It was lost by the french mail. The
Weston IV is perfect, like new. You are a magician. Thank you very
much for this beautiful and in perfect working condition meter.
Regards
Mougin

~
Hello Ian,
Received this lunchtime. Superb Master IV, many thanks. Let me know it
you get any earlier Westons or the uncommon Ranger or Master 6.
Chris
~
Dear Ian,
I just bought the Weston IV meter from your site...read what you wrote about the better design of the needle lock switch and so made up my mind. Also it looks a lot easier to read than the V. Thanks again Ian!
Gavin.
~
Robert,
The Master IV is quite handy to use with the sliding thumb switch, while
the button on the V's and Euromaster's is less practical as you need to use
a thumb nail when locking it.
The "Buy Now" button will take you to a secure Paypal page to buy the meter
using a card. Meter will go to your card address. I will despatch your
fully restored meter kit via Special Delivery.
Ian

~
Dear Ian
The meter arrived earlier today as promised and I am very pleased with it, the condition is much better than I had hoped. Now to use it!
Thank you for the very prompt service. It has been a pleasure dealing with you, and I am already wonderign whether I should get myself another Weston as a backup!
Kind regards
Robert

~
Please enquire:
---
About | Privacy /Terms | Contact | FAQ
www.Ian-Partridge.Com ~ Web page content photography and design ~ Copyright ©2011 ~ 2019 Ian Partridge.
---