FRIDAY FILM AND FISH & CHIP SHOW

!
'THE MAN WHO KNEW TOO MUCH' (1934) Friday 24th July, 2015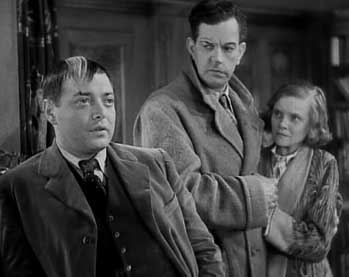 Peter Lorre, Leslie Banks, and Nova Pilbeam.
News of the death of actress Nova Pilbeam at the age of 95 prompted this Fridays' choice. She appeared in the Boulting Brothers' anti-fascist warning 'PASTOR HALL'
Alfred Hitchcock's early thriller uses the music of Arthur Benjamin and features the dramatic location of the Albert Hall (including that famous echo). Nova Pilbeam plays the daughter of Leslie Banks and Edna Best who are on holiday in the Swiss Alps when a British agent, played by Pierre Fresnay, is shot by an assassin played by the suave but menacing Frank Vosper. "..Many too many teeth and too much Brilliantine.." as he is described by the young girl Nova Pilbeam.
Nova Pilbeam kidnapped in Switzerland.
There are two climaxes to the film. The assassination attempt on the diplomat during the choral concert at the Albert Hall, and the siege shoot-out at the end between the police and Peter Lorres' gang. It is the Abert Hall concert scenes where the emotive choral music and image cutting is used to build the tension into an unbearable climax punctuated by a clash of cymbals and a pistol shot.
Printed on Kodak manufactured Eastman print stock dated 1978, it is an excellent 16mm print from good source material and was the Films Incorporated 'B2' copy from the old Kit Parker distribution library. As well as the British Board of Film Censors title it has the Board of Trade certificate at the start.
Back to Friday Film & Fish & Chip Shows
About | Privacy/Terms | Contact | FAQ
---
www.ian-partridge.com ~ Web page content photography and design ~ Copyright © 2015 ~2023 Ian Partridge.
---