FRIDAY FILM AND FISH & CHIP SHOW

!
'PASTOR HALL' (1940) Friday 8th May, 2015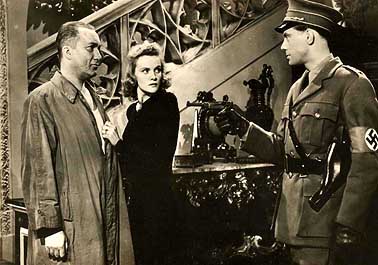 Wilfrid Lawson and Nova Pilbeam confronted by Marius Goring.
Choosing this Friday's film was a challenge. Seventy years after the defeat of Nazi Germany the most appropriate would be Eisenstein's 'Alexandr Nevski' defeating the Huns. But my choice was for a film most apt for the day after the British General Election.
This film by the Boulting twins, directed by Roy and produced by John, shows how intolerance and persecution take hold over a society that allows itself to slide into a Fascist nightmare.
Printed on Kodak manufactured print stock dated with edge code


for 1942, it is an original 16mm print with sharp detail and excellent contrast.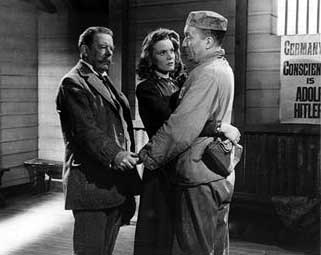 Seymour Hicks and Nova Pilbeam visit Wilfrid Lawson inside Dachau.
Back to Friday Film & Fish & Chip Shows
About | Privacy/Terms | Contact | FAQ
---
www.ian-partridge.com ~ Web page content photography and design ~ Copyright © 2015 ~ 2023 Ian Partridge.
---