FRIDAY FILM AND FISH & CHIP SHOW

!
'THE FIRST MEN IN THE MOON' (1964) Friday 18th October, 2013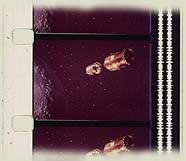 Printed on Fujicolor stock Edge code "72" for 1972, it is an original 16mm print running 103 minutes. Format is flat, not scope. There is colour fade and warming on this print after 41 years. Complete with opening Columbia logo (frames illustrated below) and all end credits with no lines on two 2,000'ft. reels. (It was for sale on my 16mm Features page).
This week is viewing one of the prints I acquired from a long time collection that I purchased this year. With a screenplay by Nigel Kneale (Quatermass) and model animations of Ray Harryhousen this is a very entertaining fantasy. Lionel Jefferies is the eccentric inventor Cavor and the Selenian denizens of the moon are amusing. The quaint Victorian set design of the space ship is a highlight while the giant caterpillar whose carcase gets eaten is a weird vision. But caterpillars surely don't have bones to leave behind after they are eaten?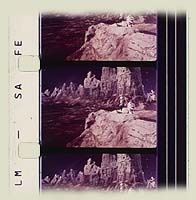 Because Harryhousen's 'SuperDynamation' camera was not compatible with the 70mm anamorphic process, he had to design his model sets especially elongated on the vertical plane.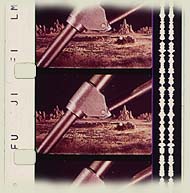 When these scenes were cut into the film and projected through an anamorphic lens (squeezed out on the horizontal plane) they would appear in the correct aspect.
It is odd that Nigel Kneale, who was influenced by H.G. Wells' stories particularly 'The Croquet Player, ' would write this screenplay to be more comic than chilling. He does however follow Wells's original story.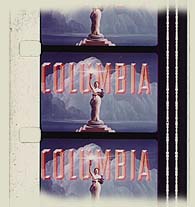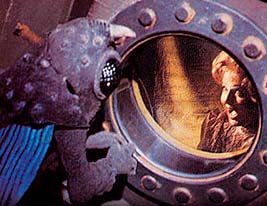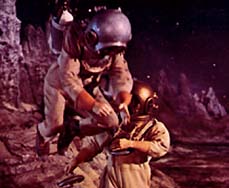 'First Men in the Moon' (1964)
Back to Friday Film & Fish & Chip Shows
About | Privacy/Terms | Contact | FAQ
---
www.ian-partridge.com ~ Web page content photography and design ~ Copyright © 2013 ~ 2023 Ian Partridge.
---