PROJECTOR MANUAL FOR SALE
EIKI ELF RST / RT / RM 16mm. PROJECTOR OPERATORS' MANUAL
---
~ GLOSSY ART PAPER BOOKLET INSTRUCTION MANUAL ~ available now, NOVEMBER 2023
16mm Sound Projector - 20 page WORKING INSTRUCTIONS OPERATORS' MANUAL Covers Models 'RST' "RT" RM " 20 page BOOKLET all about Eiki Elf Projectors. On art paper with many photograph illustrations and diagrams £12.00 UK/Worldwide (Airmail)= £3.00
---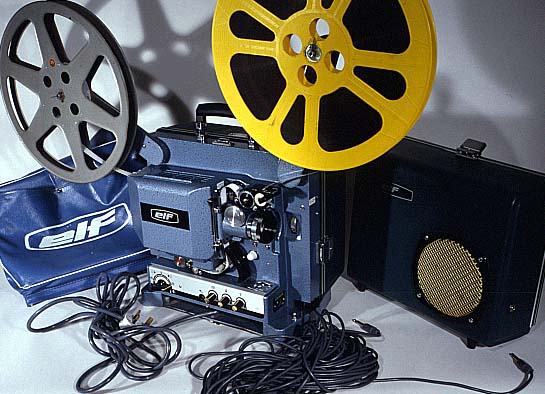 EIKI ELF RT1 16mm. SOUND PROJECTOR


ELF model RT - 1 with autothread facility. It has a brilliant 1:1.3/50 'Kowa' Super Prominar lens. It produces optical sound from a 12 watt amplifier and 8 ohm 15 watt speaker. The Elf has two brightness settings in forward and reverse, microphone input, volume, bass and treble controls. It produces a very bright, steady picture. The film path has a loop-restoring facilty, threading light, and single frame facility. Silent speed is by opening the back cover and adjusting the internal belt pulley. The case has a metallic blue finish. The spool arms extend to accommodate reels of up to 2000' ft. capacity. The back cover and front cover are of strong plastic fibre in green. The front cover doubles as speaker. Speaker cable is easily stored in the soft blue vinyl protective dustcover.
---
About | Privacy/Terms | Contact | FAQ
---
www.ian-partridge.com ~ Web page content photography and design ~ Copyright © 2011 ~ 2023 Ian Partridge.
---