PROJECTOR HELP PAGES
UHLER 16mm FILM CONTACT PRINTER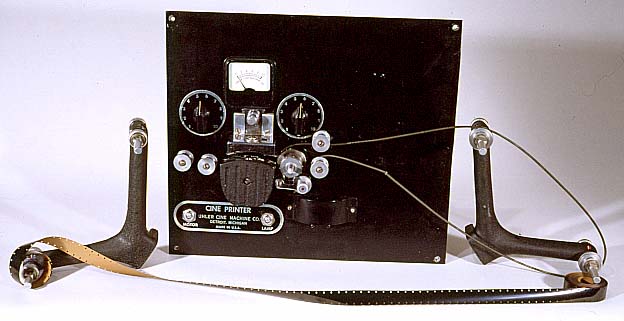 The contact printer is an unmounted panel with fibre gear, worm gear, bearings and pulley wheel mounted behind. The take up and feed arms are unmounted. The rheostat controls are for picture exposure and motor speed. The meter registers the picture exposure. There is provision for exposure of the sound track. The spool arms permit a maximum of 400' ft of film to be accomodated. For the amateur film maker it was an opportunity to own the facility to contact print their own 16mm films, make work prints, and experiment with film production techniques. (Weight 4 kg.)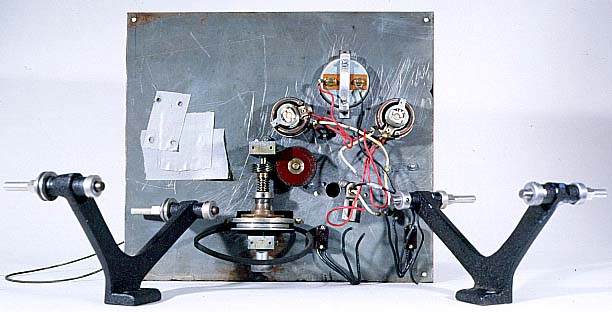 There is a leather V belt and a matching small V pulley to fit a motor spindle. A suitable low voltage motor drive to the panel and a constant DC power source for the lamp, such as a 6 volt battery, will give a smooth lamp output for a consistant exposure. The loose wires coming from the ameter, lamp, rheostats, and switches would need to be rewired. It has no transformer or motor attached.
This is a Uhler made about 40 years ago in Detroit Michigan. They went out of business about the same time as Auricon sound-on-film cameras in Hollywood California, and the Cramer continous processor machine company in Sarasota Florida.

Projector List Page
---
About | Privacy/Terms | Contact | FAQ
---
www.ian-partridge.com ~ Web page content photography and design ~ Copyright ©2011 ~ 2023 Ian Partridge.
---