FRIDAY FILM AND FISH & CHIP SHOW

!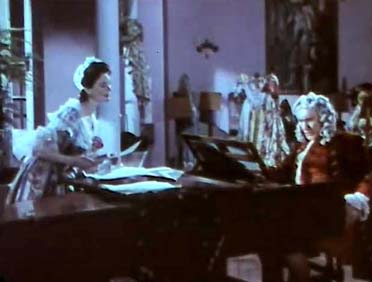 'THE GREAT MR HANDEL' (1942) watched Friday 16th May, 2014
Starring Wilfrid Lawson and Elizabeth Allan. Her singing voice dubbed by Gladys Ripley. Directed by Norman Walker for J. Arthur Rank studio.
Video 15 minutes from this actual film print ~ Excerpt from the film showing innovative use of a natural colour pallette for the Technicolor process.
(This 16mm IB Tech print is an original with fine contrast and density. The grey optical soundtrack is excellent quality).
Cinematography in Technicolor was by Claude Friese-Greene, his last feature film, and possibly the culmination of his art in that it shows his mastery of lighting and colour.
Claude Friese-Green was the elder son of the pioneer film maker William Friese-Greene a visionary who had lost a fortune developing the earliest moving picture systems. In 1903 as a child of five, Claude had appeared in his father's experimental colour film waving a Union Jack where the red, white, and blue came out remarkably distinctly. Claude carried on with colour film innovation to develop his own Spectrum Films company with a specially devised camera system built by Vinten's in the 1920's and produced a colour travelogue tour of Britain 'The Open Road.'
Spectrum Films,
Back to Friday Film & Fish & Chip Shows
About | Privacy/Terms | Contact | FAQ
---
www.ian-partridge.com ~ Web page content photography and design ~ Copyright © 2013 ~ 2023 Ian Partridge.
---