FRIDAY FILM AND FISH & CHIP SHOW

!
'MORGAN' (1966) Friday 13th November, 2015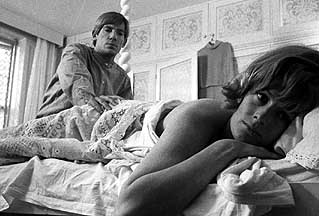 David Warner, Vanessa Redgrave.
David Warner, Vanessa Redgrave, Robert Stephens, Irene Handl.
The 1966 big-screen version of David Mercer's landmark BBC television Play, "Morgan - A Suitable Case For Treatment.' Contains wildlife cinamatographer Denis Root's beautiful footage of wild gorillas and rutting African fauna. Interpolated also are extracts of the 1933 'King Kong' and Johnny Weismuller and Maureen O'Sullivan's swimming scenes from 1930's Tarzan films. These, in combination with John(ny) Dankworth's whistful score gives a compelling dreamlike quality to the gradual disintegration of a mind.
Oddly the burning gorrila suit puts in mind the Roger Corman 'Masque of the Red Death.'
This is one film that I watch and think of a real-life 'Morgan' ("Karl Marx was an Irishman") I once knew whose black depressions grew beyond help and came to a tragic outcome, unlike the positive ending in this film.
Printed on Agfa Gevaert manufactured 1S print stock, it is an excellent 16mm print.
Back to Friday Film & Fish & Chip Shows
About | Privacy/Terms | Contact | FAQ
---
www.ian-partridge.com ~ Web page content photography and design ~ Copyright © 2015 ~ 2023 Ian Partridge.
---