FRIDAY FILM AND FISH & CHIP SHOW

!
'THE 20 QUESTIONS MURDER MYSTERY' (1950) Friday 11th October, 2013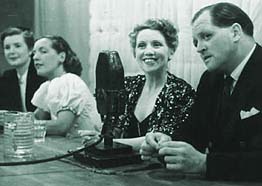 Twenty Questions Panel, BBC Paris Cinema, 1947
Printed on Kodak stock Edge code "


" for 1950, it is an original 16mm print of the UK release running 95 minutes.
This Friday is another film title with a number in it, this time from the small Southall Film Studio that specialised in radio spin-off's like the 'Just William' films. Oddly, '20 Question Murder Mystery' is yet another film with an Othello theme as deranged literary killer (Clifford Evans) acts out Shakespear's play at the climax.
Back to Friday Film & Fish & Chip Shows
About | Privacy/Terms | Contact | FAQ
---
www.ian-partridge.com ~ Web page content photography and design ~ Copyright ©2013 ~ 2023 Ian Partridge.
---