FRIDAY FILM AND FISH & CHIP SHOW

!
'THE BEGGARS OPERA' (1953) ~ Laurence Olivier. Director Peter Brook ~ IB Tech. Friday 9th December, 2016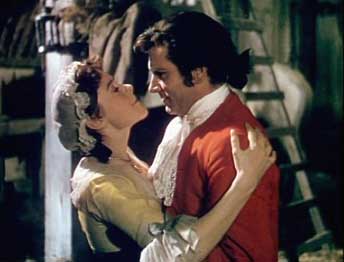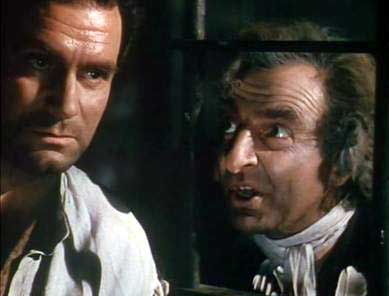 'Beggars Opera' (1953) Dorothy Tutin, Laurence Olivier, Hugh Griffith
In keeping with present day corruption, austerity, poverty, and Brexit, this Friday it has to be 'The Beggars Opera.' This 16mm print is an original IB Technicolor print.
The music score is by Arthur Bliss with sublime arrangements of the songs. Particularly the 'Over the Hills and Far Away' love duet, and ' Let Us Take to the Road' by the chorus of highwaymen set as a multi-layered round by Bliss. Olivier and Stanley Holloway each sing with their own fine voices while the rest of the cast are dubbed by professional singers. It is a surprise to hear Olivier sing so well. It is difficult to believe this was made in 1953 - its direction and feel is a contemporary one.
A Beggar (Hugh Griffith) arrives in the dungeons of Newgate Gaol to visit the incarcerated Captain Macheath (Laurence Olivier). He has written an opera extolling the fantastic criminal adventures of highwayman Captain Macheath.
Peachum (George Devine), is a fence and thief-catcher whos' daughter, Polly (Dorothy Tutin), has secretly married Captain Macheath, Peachum's principal client. Peachum and his wife ask how Polly will support such a husband "in gaming, drinking and whoring?" They scheme the match may be more profitable if the husband can be killed for his reward money. However, Polly has hidden Macheath.
Macheath goes to a tavern where he is surrounded by women who compete in displaying perfect drawing-room manners while their conversation is success in picking pockets and shoplifting. Macheath discovers too late that two of them, Jenny Diver and Suky Tawdry, have contracted with Peachum to betray him. He becomes a prisoner in Newgate gaol. The prison is run by Peachum's associate, the corrupt gaoler Lockit (Stanley Holloway). His daughter, Lucy Lockit (Daphne Anderson), has the opportunity to scold Macheath for having agreed to marry her and then broken this promise. She tells him that to see him tortured would give her pleasure. Macheath pacifies her, but Polly arrives and claims him as her husband. Macheath tells Lucy that Polly is crazy. Lucy helps Macheath to escape by stealing her father's keys. Her father learns of Macheath's promise to marry her and worries that if Macheath is recaptured and hanged, his fortune might be subject to Peachum's claims. Lockit and Peachum discover Macheath's hiding place. They decide to split his fortune.
Polly visits Lucy to try to reach an agreement, but Lucy tries to poison her. Polly narrowly avoids the poisoned drink, and the two girls find out that Macheath has been recaptured owing to the inebriated Mrs Trapes (Athene Seyler). They plead with their fathers for Macheath's life. However, Macheath now finds that four women with babes in arms each claim him as their husband. He declares that he is "sooner ready to be hanged than own to them." The Beggar notes that although in a moral ending Macheath and all the other thieves would be hanged, the audience demands a happy ending. He calls "Reprieve !"
A wild raptourous and excillerating cinematic dance of celebration errupts where the inmates overthrow their gaolers allows Captain Macheath to truly escape.
Songs :
Can Love Be Controlled By Advice? (Polly)
Let Us Take to the Road (Chorus of Highwaymen)
When Gold Is at Hand (Jenny Diver)
At The Tree I Shall Suffer (Macheath)
How Cruel Are The Traitors (Lucy)
How Happy Could I Be With Either (Macheath)
In The Days of My Youth (Mrs Diana Trapes)
The Charge Is Prepared (Macheath)
Back to Friday Film & Fish & Chip Shows
About | Privacy/Terms | Contact | FAQ
---
www.ian-partridge.com ~ Web page content photography and design ~ Copyright ©2017 ~ 2023 Ian Partridge.
---