FRIDAY FILM AND FISH & CHIP SHOW

!
'NUMBER SEVENTEEN' (1932) Friday 6th September, 2013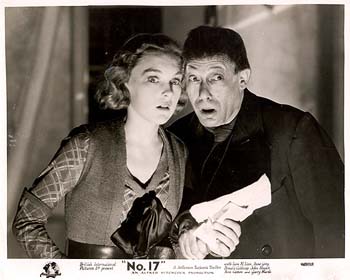 Written by Hitchcock, Rodney Ackland,
and Ann Reville (Hitchcock's wife)

with Leon M. Lion (who also produced)
Anne Grey, John Stuart, Donald Calthrop
This 16mm film print is shown to continue with the theme of veteran British cinematographer Gilbert Taylor who died at at the advanced age of ninety-nine. Unlike last weeks' showing, Gilbert Taylor was not the cinematographer, but the clapper loader, on this early Alfred Hitchcock production. So he must have got to see how not to make a film!
The 16mm print is on Kodak stock edge code "



" from 1982. It is a reduction print with fine contrast and density. However the printer aperture was set for Academy format and has cropped the extreme top edge of the frame on this early British sound film. Includes 1" minute play-off music at end.
There are oblique angles, long shadows, witty dialogue, and intercuts between action scenes. This is more of a murder mystery send-up than a true murder picture. The musical score is very advanced in that it is appropriate for the action on screen and was specially composed for the film.
John Stuart arrives at an abandoned house shortly before midnight, stops to light a cigarette and notices moving lights inside. When he investigates, he finds a body on the stairs inside, and a frightened Cockney tramp (Leon Lion) named Ben trying to run away. Next, a young Cockney girl (Ann Grey) comes crashing through the ceiling. A sinister-looking trio, including a beautiful mute, shows up claiming they're there to look over the house for rent (at midnight?). Now the body has disappeared! It turns out the corpse is the girl's father, the sinister trio are jewel thieves trying to recover a necklace from the corpse, the mute isn't really a mute or sinister, the passer-by is a detective on the case, and the corpse isn't really a corpse. The house has a secret underground passage to the train yard.

Leon Lion is very funny and steals every scene he's in, which is most of the film. His Cockney character is irreverant, sarcastic, and a worldly-wise philosopher who's a non-stop talker. He mugs for the camera and has a grand old time chewing the dialogue. The Cockney dialoque is very funny. "Whut, me? Gaaaarrrrrn! Don't you think if I'd done it, I'd remember? It ain't like postin' a letter, is it?" When asked if he'd never seen handcuffs before, he claims "'No sir, nor worn 'em. I was brought up Baptist!"
There is a local connection too as this film features the Harwich Train Ferry (which I remember visiting in 1959). There is only the derrick and rails left now. There are model shots of the town with the church spire and lighthouse and a spectacular chase between a Green Lines coach and the train culminating in the train crashing into Harwich dockside. Hitchcock makes an appearance as a spectator in a dark coat who runs to the dock rail and looks down over the dockside at the wrecked train. This is his second appearance in the film. The first he is the baby in the baby photograph. It is supposed to be a girl baby but all babies were dressed in skirts in those days.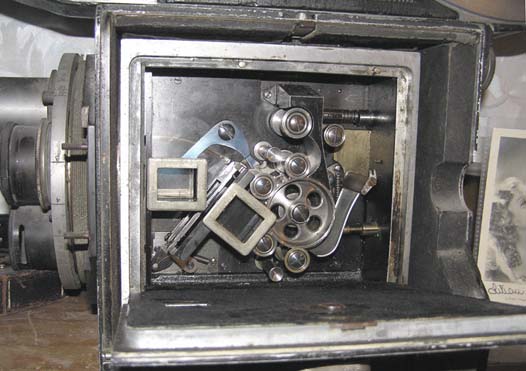 35mm BIP Elstree/UFA 'Cinephon' camera of 1932 camera used by Gilbert Taylor who was clapper/loader on 'Number Seventeen.' The gate pressure plate and prism moved away to allow direct view through the lens. Cameramen at Elstree then were Claude Friese-Greene and Walter Harvey, the brother of actress Lilian Harvey.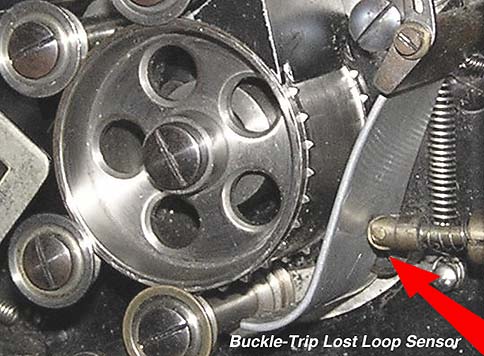 35mm BIP Elstree 'Cinephon' camera of 1932 Showing buckle-trip motor cut out device. The camera has direct reflex viewing through the back of the thin (orthochromatic in those days) film stock while shooting. When setting focus between shots, a separate prism could be moved into position that allowed direct viewing through the lens.The body has a cork sound-absorbing cover. Drive was through flexible shafts to a motor that interlocked with a separate optical sound camera that recorded the synchonised optical sound track. Dalas Bower was in charge of the sound department.
Back to Friday Film & Fish & Chip Shows
About | Privacy/Terms | Contact | FAQ
---
www.ian-partridge.com ~ Web page content photography and design ~ Copyright © 2013 ~ 2023 Ian Partridge.
---