PROJECTOR HELP PAGES
SUPER 8mm SU-510 'CINEREX' SOUND PROJECTOR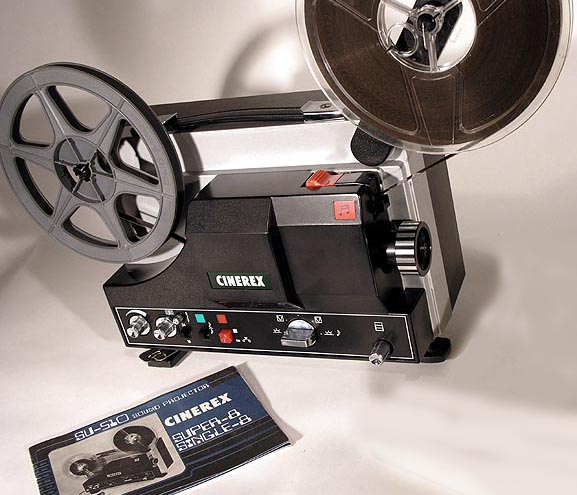 Made in Hong Kong - Zoom Lens 1:1.5 f= 18 - 30 mm. Built - in speaker of 8 Ohm 2 Watts - (Ext. 3.5 watt max.). 8 v. 50 w. Quartz Lamp. This is the Cinerex SU-510 with autothread facility, Zoom 1:1.5 f= 18 - 30 m. lens focusing at all ranges. Has built-in speaker. The SU-510 has two speed settings 18 fps and 24 fps in forward, reverse, microphone input, sound recording facility, volume, and tone controls. Has aspeed control knob with useful stroboscopic timing disk on the sprocket to set speed to exactly 24 fps. Includes film trimmer to facilitate threading. Accomodates 50 ~ or 60 ~ cycles 240 volts AC operation. The lamp is 8 volts 50 watts quartz dichroic reflector providing a briight picture. The projector mechanism and case has a mat grey finish. The chassis is cast alloy and outer case cover plastic. A large internal flywheel is used to limit wow and flutter during sound reproduction. A well-constructed machine. Has fast rewind. Rubber drive belt. The take up drive is via flexible steel spring and cannot break or rot.
---
About | Privacy/Terms | Contact | FAQ
---
www.ian-partridge.com ~ Web page content photography and design ~ Copyright ©2011 ~ 2023 Ian Partridge.
---