PROJECTOR HELP PAGES
16mm. Bell & Howell 2592 Sound Projector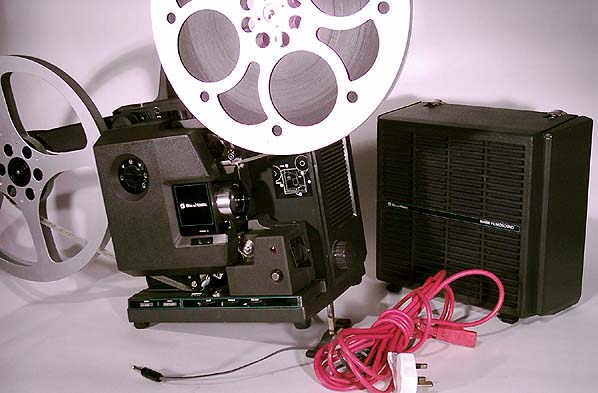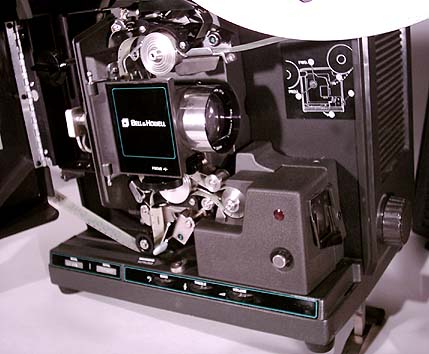 16mm. B & H 2592 PROJECTOR
Made In USA with built-in speaker and twin 8 Ohm 10 Watts extension speakers inside cover. Has 24 v. 250 w. ELC Quartz Lamp This is the USA made Bell & Howell model 2592 ASX with autothread facility, brilliant 2" f 1.2 Japanese lens. The 2592 has two brightness settings in forward, reverse, microphone input, volume, bass, and treble controls. The film path has a 3 claw pull down which readily negotiates joins and splices in older prints, and a loop-restoring facilty. Silent speed is achieved easily by a simple lever. Accomodates 50 ~ or 60 ~ cycles 120/200/250 volts AC operation. The lamp is the easily obtainable 24 v 250 w (ELC) quartz dichroic reflector providing a brilliant picture. The projector mechanism and case has a metallic mat black finish. The spool arms extend to accommodate reels of up to 2000' ft. capacity. The film path has a loop-restoring facility, threading light, and single frame facility. The 2592 is a very nicely built machine made before B & H moved to Japanese manufacture. Projector weight is 18.5 kg.
---
About | Privacy/Terms | Contact | FAQ
---
www.ian-partridge.com ~ Web page content photography and design ~ Copyright © 2019 ~ 2023 Ian Partridge.
---