PROJECTOR HELP PAGES
Bell & Howell TQIII Specialist Model 1695 16mm. Sound Projector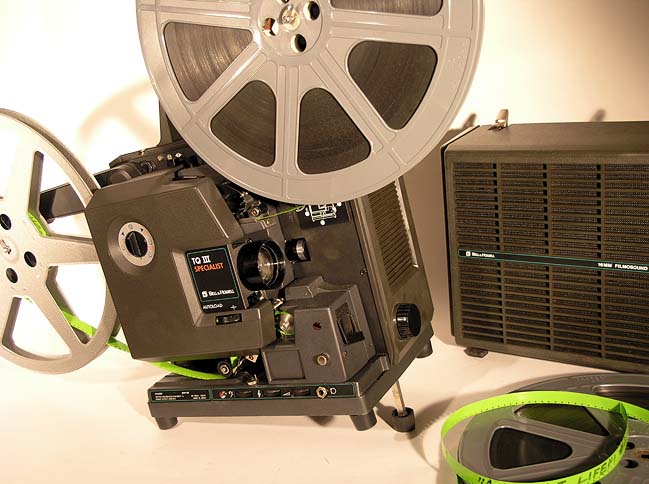 Bell & Howell TQIII Specialist Model 1695 16mm. Sound Projector Mat Black Autoload
Japanese made Bell & Howell with autothread facility, Bell & Howell 2" inch (51 mm.) f/1.2 fast lens. It has optical sound from 12 watt amplifier and 8 ohm 15 watt speaker. Can be used with external speaker or with internal speaker. The 1695 has two brightness settings in forward, a powerful 250 watt dichroic quartz lamp,microphone input, volume, bass and treble controls.

The film path has a 3 claw pull down which readily negotiates joins and splices in older prints, and a loop-restoring facilty. Accomodates 50 ~ or 60 ~ cycles 120/200/250 volts AC operation. The lamp is the 4 v 250 w (ELC) quartz with dichroic reflector providing a brilliant picture. The projector mechanism has a metallic mat black finish. The case cover and speaker cover is in toughened plasticThe spool arms extend to accommodate reels of up to 2000' ft. capacity. It has a loop-restoring facilty, threading light, and single frame facility. Silent (18 fps) speed change is easily facilitated by a switch. There is a useful inching knob and the film path is readily accessible for manual threading or unthreading if required. The cooling fan runs continuously allowing the lamp to cool down efficiently. The back cover and front cover are of strong plastic fibre in mat black. The front cover doubles as speaker. Speaker cable is easily stored within the speaker cover that has spaces for spare lamp and exciter lamp.
The plastic speaker cover has weak rubber padded feet that too easily break off allowing the speaker to become top-heavy from the weight of the speakers and fall over. The pockets within the cover made to hold the spare lamps were made of polythene foam which perishes and crumbles away. This can affect the lens elements as polythene 'sweats' during storage. It is best to remove any polythene from the cover.
.