PROJECTOR HELP PAGES
Bell & Howell Model 652QE 16mm. Sound Projector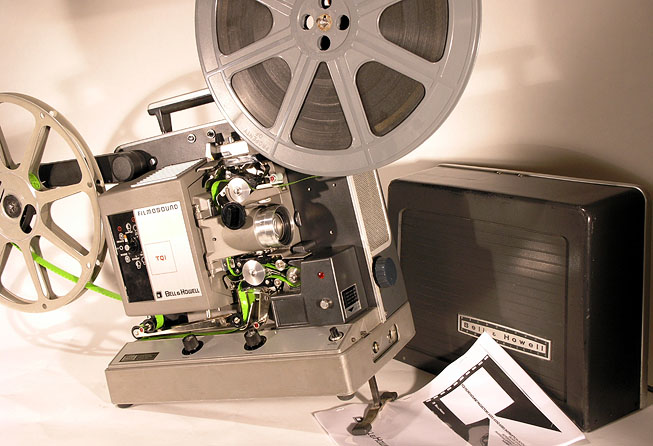 This Japanese made Bell & Howell is with autothread facility and Bell & Howell 2" inch (51 mm.) f/1.4 lens. It has optical sound from a 10 watt amplifier and 8 ohm 15 watt speaker. Can be used with external speaker via jack socket or with its own powerful 8 ohm internal speaker. The 652QE has two brightness settings in forward, a 250 watt dichroic quartz lamp, microphone input, volume, and treble controls.

The film path has a 3 claw pull down which readily negotiates joins and splices in older prints, and a loop-restoring facilty. Accomodates 50 ~ or 60 ~ cycles 200/250 volts AC operation. The lamp is 24 v 250 w quartz with a separate dichroic reflector. The projector mechanism has a metalic mat grey finish. The case and cover is of toughened fibreglass. The spool arms extend to accommodate reels of up to 2000' ft. capacity. Optical Incorporates a large balanced flywheel behind the sound drum. A very nicely built Bell & Howell machine made to Japanese high standards of manufacture. The film path has a loop-restoring facilty. Silent (18 fps) speed change is facilitated by a lever. The film path is readily accessible for manual threading or unthreading if required.

This machine was originally suppied by DIXONS TECHNICAL - 3 SOHO SQUARE - LONDON - W1V 5DE. Illustrated above with the cover removed, a replacement grey nylon worm gear can be seen above and to the right of the large sound fly wheel.
This projector uses a special dichroic reflector separate to the quartz lamp. Because this reflector is not replaced when the lamp is exchanged, the reflectance of the dichoic mirror coating diminishes and light output gradually becomes less than required even with a new lamp
The lamp housing can be easily upgraded with a 'new' dichroic reflector taken from a modern dichroic lamp (choose the right reflector, one with a large round hole in the centre, not a slot shape). Simply glue this onto the old worn reflector using heat resisting silicone 'instant gasket' from an automotive supplier.
---
About | Privacy/Terms | Contact | FAQ
---
www.ian-partridge.com ~ Web page content photography and design ~ Copyright © 2019 ~ 2023 Ian Partridge.
---