PROJECTOR HELP PAGES
ACMADE 'MOVIOLA' 16mm EDITOR PICTURE & SOUND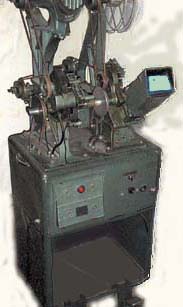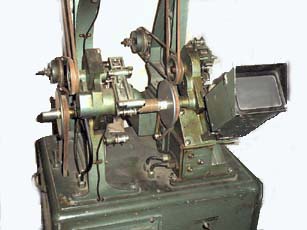 Upright motorised editor from Acmade engineers of Denham.
Combined optical, Combined magnetic, Separate Optical (removed) and Separate Magnetic sound facility. Picture head has quartz bulb. For viewing combined picture and magnetic tracks, mute picture and separate sound. Infinately variable speed forward and reverse. Short lengths of film run into bins, or can be used with regular or split spools and cores. The body and cabinet assembly contains the projection lamp, variable and constant speed motors, amplifier and speaker, controls and switches. The whole is mounted on a separate stand with castors. Foot controls are fastened to the cross-member of the stand. The amplifier has five valves, optical-magnetic selector switch, volume and tone controls, high frequency exciter lamp supply, equalisation on magnetic track and headphone jack. The picture head incorporates a 5" (127 mm) x 4" (102 mm) rear projection screen. Picture movement is by "Geneva" intermittent gearbox mechanism and single frame viewing can be accomplished. The movement can be stopped within a few frames. The composite sound head is a unit attached to and becoming an integral part of a 16mm picture head equipped with reel spindles. It reproduces magnetic sound recorded on edge or centre on magnetic sound film. Max. Reel Size: 16 mm Picture Head is 15" (381 mm), Sound Head is 15" (381 mm) Power Supply: 230 volt, 50 cycle, single phase. Height assembled with speaker is : 5' ft. The cabinet on castors is 2' ft. 10" inches high x 1' ft. 10" wide x 1 ft. 4" deep.
The possibility of accidentally setting the sound head in the opposite direction to the picture head at full speed was always an interesting, if not alarming, feature. A compliant rubber block joint shaft between the two heads would adsorb the shock. A glorious loud clattering and filmic chuntering noise was produced in editing use that was aesthetically very satisfying. The handy foot pedal controls allowed the hands to be free, but there was nowhere to place a splicer !
---
About | Privacy/Terms | Contact | FAQ
---
www.ian-partridge.com ~ Web page content photography and design ~ Copyright © 2019 ~ 2023 Ian Partridge.
---